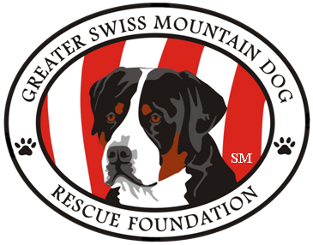 Welcome to the Greater Swiss Mountain Dog Rescue Foundation!
A 501(c)3 Public Charity
Here at the Greater Swiss Mountain Dog Rescue Foundation, or GSMDRF, we are dedicated to the well-being, rescue, and re-homing of Greater Swiss Mountain Dogs. We believe that the GSMD should not have to suffer a life of being shelter dogs, or dogs that are homeless. With this in mind, we are committed to being there for every Greater Swiss Mountain Dog that needs the help of the GSMDRF, even after being placed in their forever homes. Our mission statement is located here. The GSMDRF is a 501(c)(3) volunteer-run and not-for-profit organization that was set up by the Greater Swiss Mountain Dog Club of America in February 2009.
If you are interested in adopting a Swissy, the first step in the process is for you and your family to submit our adoption application. All applicants will receive a confirming e-mail. Please do not call to inquire about the availability of a Swissy. Potential adoptive homes are selected from applications on file, and we attempt to match dogs with families based on the application information.